The Whitley Hotel
3434 Peachtree Rd NE, Atlanta, GA 30326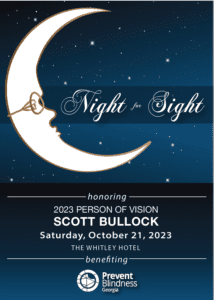 We're excited to announce the 7th annual Night for Sight Gala benefiting Prevent Blindness Georgia on Saturday October 21, 2023 at the Whitley Hotel!
Join us for an evening of fun, good food and wine, live music, and dancing, all while supporting Prevent Blindness Georgia's critical work serving children and adults in need of glasses and vision care in Georgia.
For Tickets, sponsorships, and more information, email: [email protected]
The Prevent Blindness Georgia Person of Vision Award honors an invaluable individual who emulates excellence in the eyecare community through their distinctive leadership and professional integrity that motivates others to excellence creating a better vision for all of us. The Person of Vision's volunteerism on behalf of vision care and social responsibility while advancing vision health access, equity, and vision care has made Georgia a healthier place to live.
This year, we are proud to be honoring:
Scott Bullock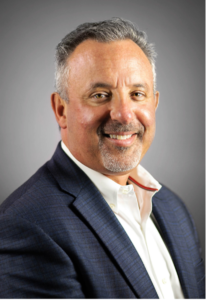 Scott is one of the founding partners of EyeSouth Partners and currently serves as a Division President.  After spending seven years at Georgia Eye Partners, where he helped to facilitate the growth of the practice at a compounded annual rate of over 22% from 2010 to 2017, Scott co-founded EyeSouth Partners alongside Drs. Gabianelli, Feinberg, and Khator.  Since 2017, the Anterior Segment Division has grown to include over 30 affiliated practices across 12 states.  The Anterior Segment Division represents over 250 Ophthalmologists and Optometrists, and 2,300 support staff at more than 140 locations, including 19 ambulatory surgery centers. In his role as Division President, Scott has scaled the company's infrastructure which has led to the addition of 8 experienced Regional Operations Directors to oversee every practice and effectively drive industry-leading, organic growth rates.
Scott hails from Upstate New York and holds a B.S. in Management from Penn State University. Scott and his wife, Andrea, currently reside in Florida and North Carolina.  Outside of work, Scott enjoys golfing, traveling, and hiking.  Scott is a member of the ACE Global Advisory Board and serves as a Board Member and Chairman (2019-2023) for Prevent Blindness Georgia.   He has also held several leadership positions within the Boy Scouts of America for over 10 years between 2008 and 2017.
Join us on October 21st to recognize and honor Scott!
For more information about tickets and sponsorships, email: [email protected]
Night For Sight Sign Up
Sign Up to be the first to get any and all updates regarding the Night for Sight Gala on October 21, 2023 at the Whitley Hotel.