Our programs prevent blindness, restore sight, and change lives.
We touch the lives of children, adults and families throughout the state.
We are proud to share some of our success stories with you. 
Vision Screening Opens Up New World for Pre-Kindergartener

Keshawn Riase-Bledsoe suspected that her son Wyatt, age 4, had a vision problem after noticing that he would sit too close to the television. A vision screening by Prevent Blindness Georgia confirmed her suspicion that Wyatt was not seeing clearly.
Laurie Irby, Director of Children's Vision Programs at PBGA and a certified vision screener, visited Wyatt's prekindergarten to vision screen the children through the Star PupilsTM program. Wyatt failed the free vision screening and was referred to an eye doctor for further evaluation.
Wyatt visited an eye doctor, where he was diagnosed with astigmatism and prescribed glasses. He has fully embraced the glasses that help him to see so much better.  "I'm very proud of my son and how quickly he adapted to his glasses," noted Riase-Bledsoe. "Wyatt loves his glasses. He's very careful of how he places them in the eyeglass case and makes sure that either his dad or mom does not forget to clean them before school each day."
The glasses have helped Wyatt improve on activities that he had trouble with before. Riase-Bledsoe explained: "Wyatt's coloring skills, cutting paper, and writing has been even better since getting his glasses." He enjoys reading books and makes sure to wear his glasses when reading or watching television.
Thank You on Behalf of Gus
Hello!
I'm writing this note on behalf of Gus. You came to his preschool and performed a free vision screening on him and detected some problems.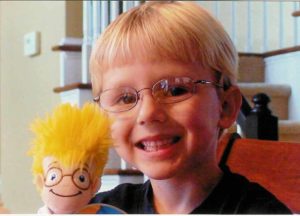 We followed up with an optometrist and found that he had decreased vision in his right eye and "lazy eye." They feel that because it was caught while he's still young, they will be able to completely correct his vision. It has already improved from 20/125 to 20/40 in just three months.
We are so grateful that you came and provided this service. We were completely unaware that he had a problem because his left eye compensated so well.
Thank you so much!
The Gautiers
There Are Still Angels Walking Among Us
Tammy Watts from Alapha, Georgia, 60 miles outside of Valdosta, writes, "I was at wit's end with no insurance and no way of getting glasses. The clinic saved my career and my eyes. I'm very, very thankful for you and your organization. ..There are still angels walking among us. I want people to know about this – that you don't have to go blind."
Thankful For Prevent Blindness Georgia
Luke, age 5, was screened by a PBGA certified vision screener at his preschool in Forsyth County in October 2015. His mother never suspected that he had a vision problem. Luke failed the screening and went to an ophthalmologist, where he was diagnosed with amblyopia and was prescribed glasses. Since receiving the glasses, his mom says that his school performance has improved, and especially his handwriting and recognizing letters. In fact, Luke said "I need my glasses, mom, so I can see better." Luke's thankful mom explained, "we were afraid that he wouldn't wear the glasses, but the moment he put them on he said 'thank you mom, I can see so much better.' It broke our heart knowing that he couldn't see well the first four years of his life, but now with the Prevent Blindness screening we are aware and can help. Thank you!"
Fulton County Pre-K Coach Praises Star Pupils Program
LeMell Cobbs, Pre-K Transition Coach for Fulton County Schools, exclaimed, "I love Prevent Blindness Georgia! It's a wonderful organization. I really can't say enough about the good work you do."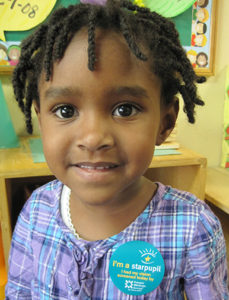 LeMell is singing the praises of the Prevent Blindness Georgia Star Pupils™ program which provides vision screenings for more than 32,000 four year old children throughout Georgia, including Fulton County prekindergarten children.
The program uses a Lea Symbols Chart and a Random Dot E test to detect such vision issues as amblyopia or "Lazy Eye" blindness which can lead to permanent vision loss if not found early. "It's a simple, quick screening test and even works for non-English speaking children," LeMell said, noting that the referral results are "immediate."
When children fail the vision screening, they are referred to an eye doctor for further evaluation and treatment if needed. "Many vision conditions can be detected through the vision check," LeMell said. "I follow through with the families. It's wonderful to see children's vision problems addressed and corrected."
"I Can See!"
Thank you so much for existing! Your test and expertise discovered something that had not been detected by previous eye tests or myself.
After receiving his glasses, my son's first words were, "I can see!"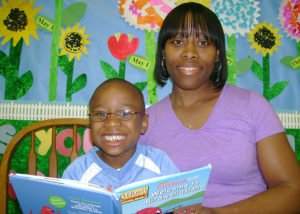 He was so excited about all the things he could see, things he never made comments about before like billboards and letters made in rock formations that we've passed many times.
Your organization has made a great difference in my son's life.
Sincerely,
Christine S.