This Giving Tuesday, you can make a life-changing impact. We ask that you consider making a gift on or before Giving Tuesday, November 28th.
Your generosity will support providing eye health and vision care services to preschoolers, elementary school students, and financially insecure adults. With your support, PBGA can provide: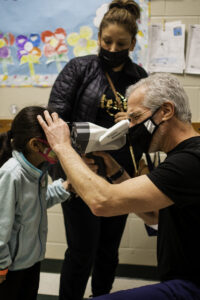 Certified vision screening which can detect eye conditions such as nearsightedness, farsightedness, astigmatism, "lazy eye", and "wandering eye"
Comprehensive eye exams
Prescription eyeglasses
Retinal imaging photos to detect eye diseases and conditions like cataracts, glaucoma, and diabetic retinopathy
Connect children and their families and our adult clients to local eye health professionals for treatment for serious eye conditions and diseases
Each year, our services are needed by an increasing number of children and adults. Last year, we served over 51,120 children and over 3,000 adults. This Giving Tuesday, we ask that you to get involved with our critical sight-saving mission. Please consider making your own gift and then if you feel led to – share our mission with your community to inspire thier support of PBGA. Every new gift in any amount will have a huge impact.
Since 1965, Prevent Blindness Georgia's mission has been to preserve sight and prevent blindness. Today, our work is more crucial than ever as vision disability is one of the most prevalent disabling conditions among children and adults. The growing incidence of adult-onset blindness and vision impairment fueled by an aging population and a near epidemic growth in the incidence of diabetes. PBGA serves Georgians and their ccommunities who are facing barries around accessing quality eye health and vision care.
Thank you for your support of PBGA!