Press Release
For Immediate Release
 March 29, 2021
On Saturday, Prevent Blindness Georgia (PBGA) offered approximately 176 Hall County children free eye exams and, for those who needed, free prescription eyeglasses. Prevent Blindness Georgia was able to do this thanks to generous grants and donations from United Healthcare and National Vision, Inc. and a partnership with Hall County Schools.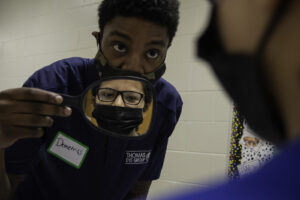 Working as volunteers, optometrists, opticians, ophthalmologists, and other eyecare professionals—including Dr. Nhora Abril, Dr. Jerry Berland, Dr. Stephen Ellison, Dr. Phoebe Lenhart, Dr. Lori Lebow, Dr. Christina Locke, and Orthoptist Ann Vines. These medical professionals donated their time and expertise to make it possible for these children to have complete eye exams. Physicians at Gainesville Eye Associates opened their offices to hold some exams in their offices and other children were seen at Lyman Hall Elementary School. Saturday's event which included free pizza from Team Fox Domino's, refreshments donated by Costco, was made possible by volunteers from St. John Paul II Church, Corners Outreach, and Verizon Wireless.
Saturday's children had all failed an earlier vision screening conducted by trained vision screeners from Prevent Blindness Georgia and Hall County School System nurses at local schools.  Over the last two months, PBGA's program has visioned screened almost 9,000 Hall County children—all the children in Kindergarten through 5th grades in all 20 Hall County elementary schools. Of the children screened, 1,664 needed further assessment due to not being able to pass the testing. Most of the children who failed the vision screening will need eyeglasses, though some, including several of the children seen on Saturday, have  potentially blinding conditions like childhood glaucoma, amblyopia (lazy eye), or strabismus (eyes that do not focus together).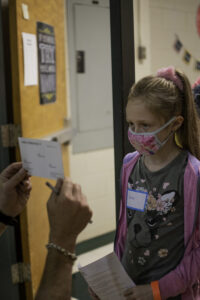 As Dr. Phoebe Lenhart, pediatric ophthalmologist and Associate Professor of Ophthalmology at Emory University, explained: "When adults with prescription glasses don't wear their glasses, they just won't see well at the time they are not wearing their glasses. Children, on the other hand, who need glasses but don't have them are at risk for permanent vision loss because their brains cannot learn to see clearly without the glasses."
The event was the first of several follow-ups to the earlier vision screening.  PBGA will hold a second event for additional children on April 17th at Chicopee Woods Elementary School. PBGA will follow up with the families served to track the program's success through a grant funded by the National Association of Chronic Disease Directors.
As many as 1 in 4 preschoolers has a vision problem that needs correction estimate researchers with the National Institutes of Health (N.I.H.). Because uncorrected vision problems can lead to permanent vision loss and because an estimated 80% of all that young children learn is learned through visual input, early detection and treatment is critical.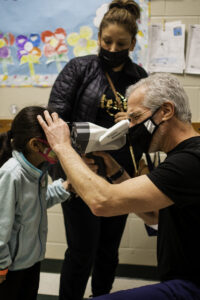 Children who have never seen well are often not aware that they don't see well. They don't know what they are missing when they have never been able to see clearly since poor vision is painless. The symptoms of vision problems such as inattention in the classroom or difficulty learning to read are often mistaken by parents and teachers for behavior problems or learning difficulties.
For all these reasons, Prevent Blindness Georgia's team of certified professional vision screeners tests approximately 40,000 young children in a typical school year.
When PBGA began working in the Hall County School System three years ago, staff noticed that the vision testing failure rate was far above national average. Instead of 8-10% of the children failing the exams, 23% of the Hall County children could not pass the vision screenings. Further, staff saw several children who were not getting the follow up care they needed.  Ordinarily when a child fails the vision screen, PBGA staff refer the parents to a local ophthalmologist. Parents in Hall County appeared to have greater barriers to follow up care, and PBGA wanted to address their challenges by providing additional support.
About Prevent Blindness Georgia
Founded in 1965, Prevent Blindness Georgia (PBGA) is a nonprofit organization affiliated with Prevent Blindness America, the oldest and largest voluntary eye health organization in the country. Since 1908, Prevent Blindness has been working to eradicate blindness in children, pioneering a children's vision screening program in schools in 1926. Today, PBGA pursues its mission to prevent blindness and preserve sight by offering an array of services designed to provide a continuum of care at the local level throughout the state for children and economically challenged adults. The organization works to educate and advocate for better eye health and safety and to train others about best practices in vision screening. Through the support of generous donors, Prevent Blindness Georgia offers its services free of charge to those it serves.
# # #